What is full integration wiring or "Man-in-the-Middle" wiring?
The motor controller interrupts the 24V signals between Thermostat and RTU. The thermostat sends 24v signals to the motor controller via the white input cable. Once the motor reaches speed, the motor controller energizes the corresponding heating or cooling stage via the black output cable to the RTU.
Characteristics of Full Integration Wiring
BMS or Thermostat is wired to the Turntide motor controller's inputs
Turntide motor controller outputs are wired to the RTU unit terminal board, to communicate which mode the RTU should operate in
The motor will reach its target speed before the RTU turns on its cooling or heating mechanisms
Provides an opportunity to remotely modify the operating mode of the RTU to validate operation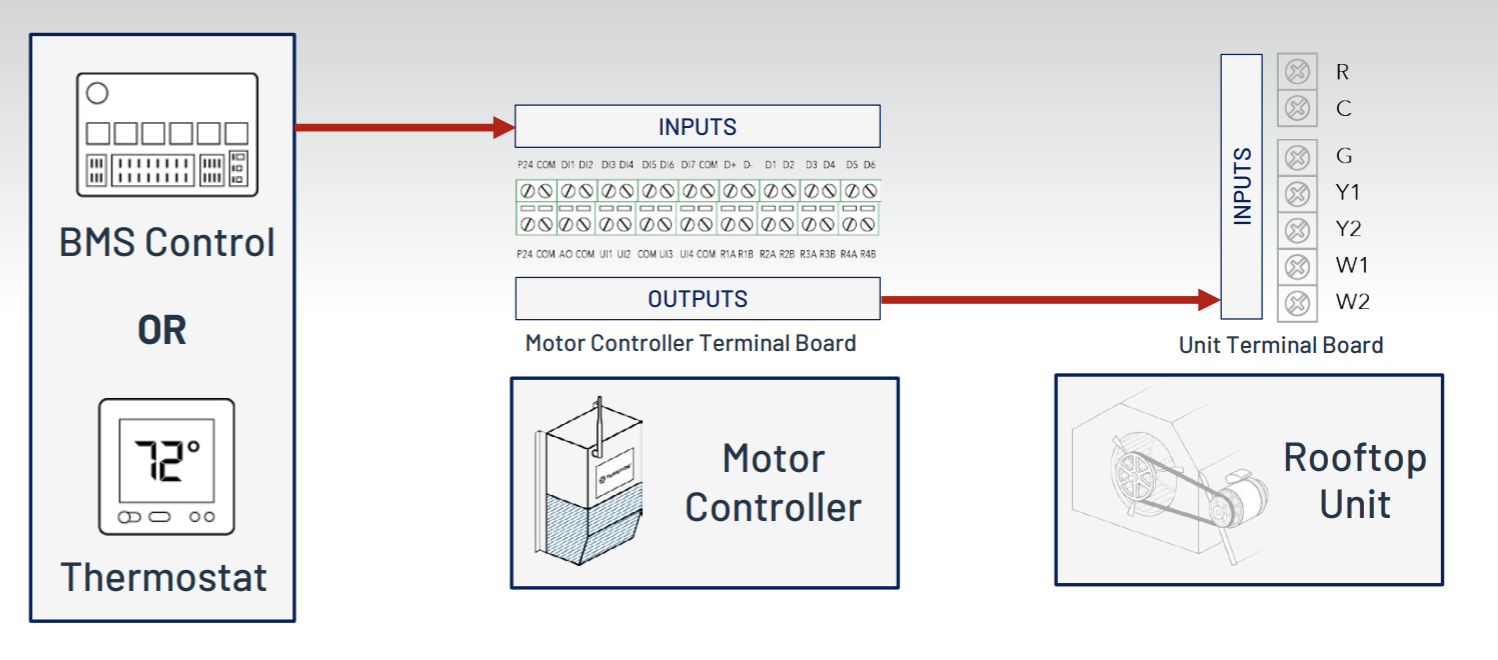 The P04, P05, and SL120 motor controllers are prewired with a white input and black output cable.
The white input cable is wired in parallel with the thermostat 24V signals to the RTU.
The black output cable contains the red & black wires for 24v hot and common
Important: Newer Turntide motor controllers come prewired for Monitor Only control. If your controller has a single blue cable prewired to the motor controller inputs, it is set up for Monitor Only, and you should reference the article for Monitor Only wiring.
If you are replacing an existing Turntide Motor Controler (P05, P05, SL120) with an SL121 or P06, you will notice that the pre-wiring scheme has changed.
Full Integration Diagrams
The white input cable (labeled as To Thermostat) is wired to the thermostat, to receive the 24V signals.
The black output cable (labeled as To Unit Terminal Board

) is wired to the RTU terminals to energize heating and cooling stages on the unit once the motor reaches stage speed.